It's important to know how to keep mice out of your shed if you own one of these structures. Sheds are mouse magnets, and can quickly become overrun if you're not careful.
This guide will teach you how to deal with mouse problems in your shed. It doesn't matter if you prefer extreme or natural methods, we cover everything.
1. Clean Up
If you have mice in your shed or think you do, then you are going to need to take action as soon as possible. You don't have to actually see the mice to know that they are lurking in your shed somewhere. Droppings, chewed boxes, small holes in the wall or chewed wires can all be signs that you have a mouse infestation.
One of the most important steps you can take when it comes to keeping mice out of your shed is to clean up the area. While the thought of cleaning your shed may not be a pleasant one, it is really a very crucial part of mouse control.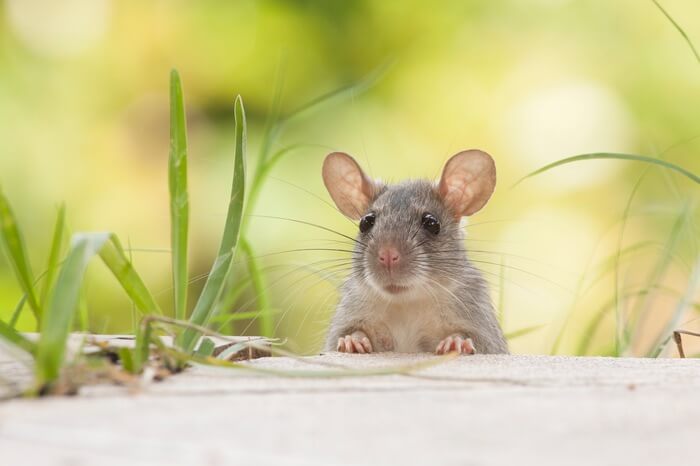 Many people use a shed as a kind of storage area for things such as tools, firewood, old appliances, cardboard boxes and other stuff they want to stash away. This sort of "out of sight out of mind" attitude towards storage is like putting out a welcome mat for mice. All of those lovely cardboard boxes and piles of junk create the perfect environment for mice looking for a place to settle down and raise a family.
Cleaning out your shed in an organized and thoughtful manner will go a long way towards keeping mice out. Yes, this is going to take some real work and elbow grease, but it is going to be so worth the effort.
Here are some steps you can take when cleaning in order to keep mice out of your shed:
We are not suggesting that you toss all of your precious items, but keeping things in cardboard boxes is a bad idea. Mice love these kinds of boxes and will chew them for nesting materials, and they will happily create a nest inside of the box. Take the items from each cardboard box, if the mice have not already done damage to the contents, and place the stuff into a plastic bin. Firmly seal and label each bin.
Toss out any old appliances that you have laying around. Mice like to chew the wires, and they will often use the inside of the appliances as hiding spots.
Clean up any yard debris, pieces of wood, disorganized tools and miscellaneous junk.
Sweep the floor and then clean as many surfaces as you can with bleach and water. The idea is to both sanitize and get rid of any lingering smell of mouse urine. Mice will often use the scent of urine to locate old hiding places.
Although the sound of cleaning your shed may seem pretty daunting, especially if you've been throwing stuff in there for years, we can almost guarantee that you will be pleased with the results.
2. Place Traps
Another way to keep mice out of your shed is to place traps. Depending on whether or not you want to kill the mice or just trap and release them, there are plenty of different kinds of traps on the market.
You are probably familiar with the traditional spring-loaded bar trap, but this kind of trap is not for people who are uncomfortable with actually killing the mouse. Death is not always instantaneous, so the mouse may linger until you find it.
There are glue and sticky pad kinds of traps. Again, the mouse won't die right away, and you'll end up with the task of figuring out how to dispose of the mouse.
Expert Tip: Other styles of mouse traps include electric mouse traps, bucket mouse traps and live-capture traps.
3. Remove Sources Of Food And Water
Finding a reliable source of shelter is certainly an important consideration if you have problems with mice in your shed, but there are bigger draws. If your shed provides a good source of food and water, then that mouse is going to want to stay.
Without even realizing it, you may be giving mice a source of food that will keep them coming back (and they don't need much food or water to live for a very long time). Animal food, grass seed, plant seeds, pieces of candy or crumbs from sandwiches are all things that mice will want to stick around for. 
Removing sources of food and water kind of goes along with the shed clean-up that we discussed before. It's perfectly fine to keep seeds, feed and other items in your shed, but these things need to be kept in tamper-proof plastic containers.
Make sure you are not providing a water source. If there are hoses or faucets in the shed, don't let them drip. Empty all buckets and containers that contain water.
4. Seal Up Entrances
An important part of keeping mice out of your shed is to figure out how they are getting in. This is another time consuming but critical step. You will need to carefully look at the inside and outside of the shed to see if there are any potential entry points. Mice are tiny and can easily slip into small nooks and crannies, so we recommend taking a bit of time on this step.
Some things to look for are gaps in the door or wall of the shed, holes in the boards, gaps around windows, holes near or on the roof and spaces around wiring or pipes. Mice are able to squeeze their bodies into holes that are under a centimeter in size, so make sure you check every spot that you think could be an entry point.
Once you have determined where the mice could be coming into your shed, it's time to seal up those entry points. There are several ways to do this such as:
Placing weather stripping around gaps in door (here's a guide) and window frames.
Caulking pipes, vents, cracks and areas where there's wiring.
Placing cement in small holes.
Placing steel wool in small cracks. Mice can't bite through it, and it often acts as a great deterrent.
Fixing holes in boards and replacing any damaged roof areas.
5. Let Your Cat In
For thousands of years, cats have been helping humans keep the mice population under control. Whether they were used to keep mice out of the fields or out of grain storage areas, cats have been an important rodent control partner. In exchange, cats were given food and shelter.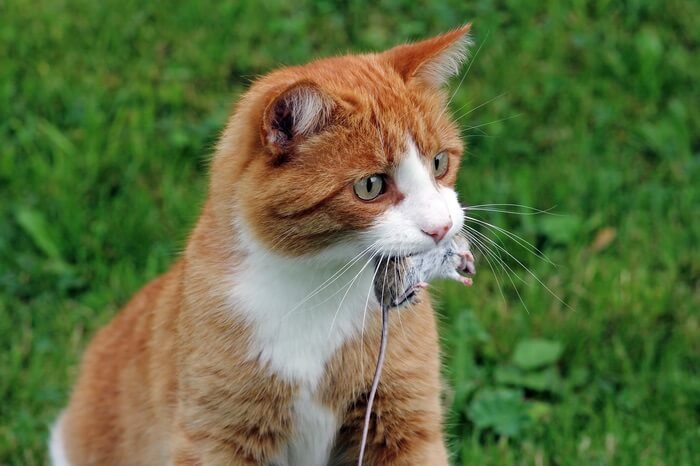 You can apply this same basic principle to keeping mice out of your shed. If you have a cat that you let outside, open the shed door and let the cat explore and do its thing. It won't take long before your mouse problem is an unpleasant memory. Before you let your cat into a shed, it's important to make sure that there are not any dangerous chemicals or poisons around.
Expert Tip: If you don't have an outdoor cat, some animal shelters have "working cat" programs. Feral cats are sent to work in warehouses or barns to help with rodent populations. They are given food, shelter and medical care in exchange for this service.
6. Set Up Dryer Sheets
There is a theory that hanging dryer sheets in a shed will keep mice away. This is not a solution that we really recommend because it doesn't actually work on a long term basis.
Initially, the smell of scented dryer sheets may deter a mouse or two, but most mice will soon get used to the smell. Even if you rub the dryer sheet on lots of surfaces in your shed, it will provide only a temporary fix.
We've included it on this list because it can be a decent short term option if you have a serious problem and want to try everything. But don't expect to keep mice out of your shed with this method alone.
7. Introduce Scents They Don't Like
If the use of traps is not to your taste, then there are other, more natural ways to keep mice out of your shed. One popular method involves the use of scents that mice hate in order to stop them from overrunning your shed.
Mice are very sensitive to smells, so the idea is to use natural oils with scents that the mice will find offensive. Scents mice are thought to dislike include peppermint oil, cinnamon oil and chili oil. Chili flakes and clove oil can be used as well.
There are a couple of ways that you can use these essential oils:
The first way is to mix two teaspoons of essential oil per cup of water in a spray bottle. Give the mixture a shake and spray the surfaces of your shed.
The second way is to soak cotton balls in the oil and place them in strategic areas. No matter which way you choose, make sure that the oil you use is one hundred percent essential oil.
While using essential oils may make your shed smell great, this method is not known to be a permanent cure for your mice problem. Initially, the mice may run from the irritating smell, but once they get used to it, it may not be as effective. Another point to consider before using essential oils is that you will need to either spray or replace the cotton balls fairly often. The initial potency of the smell doesn't last for too long.
Of course, using these oils should not be your only line of defense, and this treatment can be quite good when combined with other methods mentioned above.
8. Hire An Exterminator
If you still have a mouse problem in your shed after trying out some of these methods, then it may be time to call in the professionals. Sometimes the problem is just too big to handle yourself, and the longer you wait, the worse the situation is going to get.
A newer shed, with maybe a mouse or two, is probably not going to be that much of a challenge. However, professional intervention may be necessary for an older shed that's full of years of things that have accumulated over the years.
What can you expect from using a professional exterminator? First of all, a professional will be able to look at your unique situation with an experienced eye. A pest control specialist has the knowledge and training to spot hiding spots, entry points and other signs of mice that you may not notice.
Secondly, your pest control specialist will help you come up with a plan that will help keep mice out of your shed for good. Some of the methods a professional will use may not be to your liking, but sometimes a more aggressive attack is needed. A few of the strategies your pest control specialist may decide to use include:
1. Using a rodenticide. This method uses a variety of chemicals that are designed to kill the mice. If you have pets or kids that go into the shed, then you will need to talk to your exterminator. The chemicals they use are very potent, and every precaution needs to be taken to make sure that kids and pets are safe.
One thing to know is that even with these chemicals, you may not get rid of all the mice. Once they sense danger, they may decide to hide until the poison has dissipated.
2. Because rodenticides don't always work on their own, your pest control specialist may recommend using some type of trap as an extra precaution. They will help you decide which is the best trap to use.
3. Your exterminator will be able to give you advice on how to block entry points. They will also let you know about potential hiding spots and how to rectify the situation.
Why It's Important To Keep Mice Out Of Your Shed
You may think that spotting a mouse or two in your shed is no problem. This is a common but misinformed assumption because mice are prolific reproducers.
A female mouse has the potential to give birth to between 30 and 60 pups a year. Once a female gives birth, she can, and often will, mate right away. This means that in about 25 days or so, you could be looking at another litter.
Expert Tip: A female mouse will start reproducing at about six weeks of age, so the potential for exponential growth in the mouse population is a real issue.
The second reason that it's important to keep mice out of your shed is that mice can cause a lot of damage to your property. A single mouse can chew through wood, fiberglass, wiring and insulation. If your shed has live wires, a fire caused by mice is a real possibility. Imagine the damage that can occur with a shed full of mice.
Mice are notorious carriers of some very dangerous diseases such as salmonella, hantavirus and lymphocytic choriomeningitis. These diseases can be spread through their urine, through parasites such as fleas and through their bites. What's really scary is that once their urine dries, it turns into a type of dusty powder that can be breathed in.
In addition to destroying the structure of your shed, mice will quickly make a mess of the contents of your shed. If you store seeds, grain or pet food in your shed, they are going to wipe it out. Do you store clothing, linens or books in your shed? If you keep these things in cardboard boxes, mice will have it all in tatters in no time flat.
Equipment, tools, appliances and other items are all fair game, and a few mice can destroy thousands of dollars worth of stuff. In other words, if it can be eaten, stored, nested in or used as a hiding spot, then mice will take full advantage.
Closing Thoughts
Now that you know how to keep mice out of your shed, it's time for you to start taking proactive measures. Protecting your shed from mouse problems isn't hard as long as you do the right things!
Let us know if you have any mouse-related issues in your shed that you'd like an opinion on. We're always happy to help.